APPLY
Enroll at WMVA Today!
Call the office at 269-441-9463 to request an electronic registration form.
Register now and discover an alternative to traditional middle school and high school. West Michigan Virtual Academy is a satellite school of the Berrien Springs School District and is ideal for all types of students in Michigan, including young moms and dads, traveling athletes, and students with full-time jobs.
Enrollment Checklist
If you're ready to begin a new educational experience at West Michigan Virtual Academy, call us at (269) 441-9463 to schedule your parent/student interview and complete an application. Have questions? Check out our Frequently Asked Questions for more information.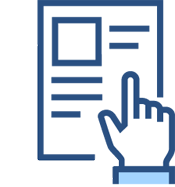 How to Apply
Call us at (269) 441-9463 to request an online application.
Items We Will Need:
| | |
| --- | --- |
| | Completed Application Form (filled out at WMVA office) |
| | Birth Certificate |
| | Proof of Residency |
| | Immunization Records |
| | Meet with Teacher or Director |
| | Transcripts (can be sent from previous school) |